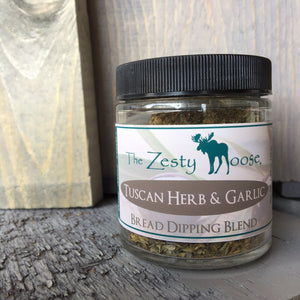 "Infusion of Flavor" is what Tuscany is all about and our Tuscan Herb & Garlic Bread Dipping Blend has the quality and the combination of herbs are the essential base element in creating the complex and rich tasting flavors that Tuscany is known for. Dalla Toscana con Amore! 1.60oz. (46g)
Favorite Uses For:
Bread Dipping
Appetizers
Pizza
Pasta
Vinaigrette Dressing
Drizzle on Vegetables
Chicken
Fish
Whether served as an appetizer with warm bread or added to a meal, these exquisite bread dipping blends are sure to be a culinary winner! Simply mix with olive oil and add to your pasta or drizzle over pizza dough for an added sensational taste. These bread dipping blends are a perfect compliment to chicken, fish and vegetables. Serves also as a light and tasty vinaigrette.
---