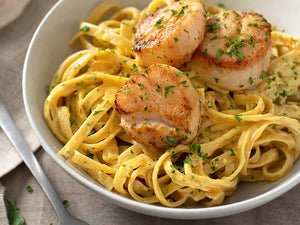 A nice, beautiful canvas to feature your sauce, marinara, cream or wine.
Each small batch pasta is mixed, kneaded, rolled and cut on machines reminiscent of the hand cranked ones long ago. They are hang harvested and packaged by hand. These pastas expand to 24 cooked ounces.
We offer Fettuccinni, Linguini, and Paparadelle. These varieties compliment our Mangy Moose Marinara Seasoning, Garlic Basil Parmesan and Shallot Parsley Finishing Butters and our Bread Dipping Oil Blends. The pasta flavors vary with the seasons, please check availability when making your selections.
---