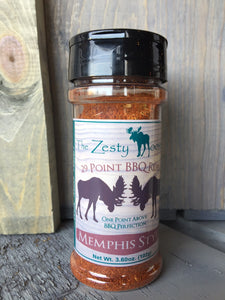 Memphis takes great pride in its barbeque. Traditional Memphis BBQ is usually smoked pork served in one of two forms ribs on a slab or pulled. Spare ribs cut St. Louis Style are commonly used as well as baby back ribs. Best known for its dry barbeque, our Memphis Style Rub is a highly flavorful blend of countless herbs and spices. Memphis BBQ Sauce has its own distinctive flavor, thin tangy and not so sweet and is usually poured over or served on the side. Although ribs are favored, some will tell you that the trademark of any Memphis Style Barbeque is a nice juicy pulled pork sandwich topped with fresh coleslaw. Either way…you will appreciate great barbeque along with our recipe for creating a classic and authentic sauce that packs in the flavor! 3.60oz. (102g)
Traditional Wood Uses:
Apple or Cherry wood.For a bolder flavor, mix wood type with some Hickory.
Traditional Uses:
Pork Slabs
Pork Ribs
Pulled Pork
Chicken
Beef
---