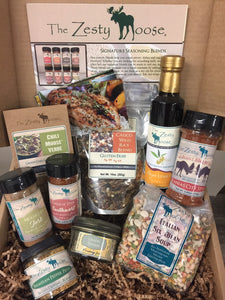 Looking for new ways to prepare and change up the flavor to that bland ol' bird? We've Got Ya Covered! This box includes a variety of products including seasonings, recipes and tips for keeping the moisture and flavor inside as well as creating some healthy and flavorful sides. Just add fresh ingredients – Your Favorite Protein – Vegetables – Leafy Greens – Fruit
Box Includes:
Twigs n' Stix Southwest Seasoning (mild)
Parmesan Pepper Pesto Bread Dipping Blend
Moose Jaw Jerk Seasoning (hot)
Lemon Thyme Finishing Salt
Kansas City BBQ Rub
Meyer Lemon Infused Olive Oil (250ml)
Italian 6 Bean Soup (includes seasoning packet)
Chili Moose` Verde Green Chili Starter (serves 4-6)
Calico Wild Rice Blend
Full Color Recipe Cards Included.
Foodies, fear not! These NEW "Wild About Flavor" Foodie Boxes are a great way to explore and taste a variety of products we have to offer. We believe all food should be savored. Nothing brings people together like good food. That's why we've rolled out our new foodie boxes chalked full of products, recipes and inspirations for creating dishes and meals safely at home. Explore the flavors of Italy, go South of the border to Mexico, or out to the backyard for some BBQ & Grilling and everything in between. And what's more, experiencing new flavors and discovering new favorites will ignite the flame and culinary imagination for any home cook.
We invite you to try one or ALL of our new Foodie Boxes and we hope you enjoy our creative blends and specialty food products without sacrificing flavor, while sharing our original recipes with family and friends.
These boxes make for the perfect gifts for your favorite foodie or as a special treat to hoard all to yourself, we've put together a mouthwatering list of some of our top selling products and favorite recipes, so let's stay home and cook!
---