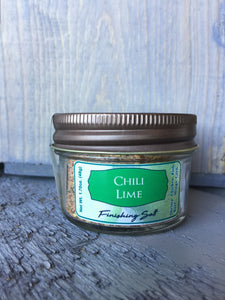 The perfect combination of sweet and spicy! An aromatic combination of spices and herbs with a splash of lime adds to this light and flavorsome blend; followed with a complex finish and texture on the palate.
Favorite Uses For:
Shrimp
Wings
Grilled Corn
Fish
Steaks
Rim Salt for Margaritas and Bloody Marys
A Finishing Salt is a sea salt that has been blended together with various herbs and/or spices.  These gourmet blends are then paired up with food and are used on dishes after it has been prepared, or near the end of cooking.  The result improves the flavor, aroma, texture, appearance and can become a regular gourmet addition to your meals.
---