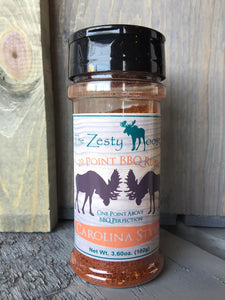 South Carolina is the only state in the nation where you will find all four of the basic types of barbeque sauce. The four basic sauces are Mustard, Vinegar & Pepper, Light Tomato, and Heavy Tomato. It's the sauce that determines what type of barbeque you're eating here. Carolina sauces in general are thin, tangy and peppery and are mopped on during cooking, or served on the side. The middle of the state is known for a mustard base sauce and not much of a rub if any is generally used. We created our own Carolina Rub which compliments any style sauce. When Carolinians say 'barbeque'; they are always talking about pork! What kind of pork you ask? Pretty much the whole pig, right down to the pork butt (shoulder) and ribs. We have included a recipe for creating a mustard base sauce that cuts through the fat in the ribs and butt and soaks into the meat while cooking. 3.60oz. (102g)
Traditional Uses:
Pork Slab
Pork Butt
Pork Shoulder
Pork Ribs
Traditional Wood Uses:
Hickory and Oak are traditional woods for Carolina Style BBQ. For a milder flavor, try mixing Cherry or Apple with the above woods.
---