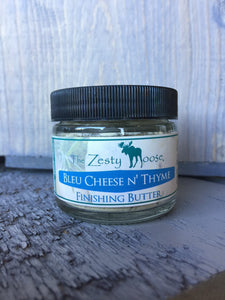 The complex flavor of bleu cheese shines in the newest addition to our Finishing Butter line! A nice balance of sweet delicate shallots and the warm peppery flavor of thyme makes this finishing butter the perfect choice for chefs and cooks. Serve a thick slice on any grilled steak, slather your corn on the cob, or place a dollop on your favorite burger! Let your imagination soar! Simply mix with unsalted butter.
Makes 1/2 lb. (2 sticks)Favorite Uses For:
Corn on the Cob
Dollup on Steak or Burgers
Sauteing
Seared Scallops
Original Creators of Dry Finishing Butter Blends!
"Finishing Butters" also known as a compound butter is a butter that has been softened and blended together with an array of various ingredients.  The concept started in Europe, in fact in France you can buy ready-to-use logs of compound butter. In 2007 we created our own line of elegant Finishing Butter Blends. Simply add our dry blends to unsalted butter. Once blended, these butters can be melted on top of meats and vegetables, used as a spread, or used for sauteing and finishing various sauces. They are used to enhance flavor in various dishes, and can be savory or sweet. Their culinary uses are endless and can be one of the most versatile staples in your kitchen. Here are some tips for preparing our butters:
• Always use "unsalted" butter as our blends contain sea salt.
• The butter must be brought to room temperature.
• Simply add our dry finishing butters blends to unsalted butter and mix until completely  blended.
• For the flavor to better penetrate the butter, allow it to stand for a few hours in the refrigerator before use.
• Typically compound butters are rolled into cylinders and chilled or even frozen, and then slices or pats are  served on steaks, fish or vegetables.
• When using compound butters, you should think of it as you would a sauce. Try adding an acidic component for balance and contrast (citrus or wine, for instance.)
---