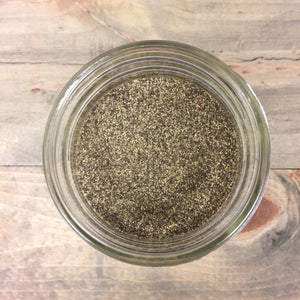 This is a fine grind pepper and is preferred by restaurant chefs, food manufactures (like us), competition barbecuers and commercial sauce companies. From the family Piperaceae, Black pepper, Piper nigrum, is a flowering vine that is cultivated for its fruit. When dried, the fruit is known as a peppercorn. Both the whole peppercorn and the ground peppercorn are frequently referred to as simply 'pepper.
Pepper's spicy heat comes from piperine which is found in both the outer fruit layer and the seed. By mass, black pepper contains between 4.6% and 9.7% piperine. The outer fruit layer also contains terpenes (pronounced "tur peans") which provide the signature citrusy, woody, and floral notes.
Our Herbs and Spices are sourced directly from the farmers and growers and are wildcrafted or cultivated without the use of commercial pesticides and fertilizers. We use these in all of our seasoning blends and are consistently turning our inventory, assuring freshness. We keep it out of the air and light until we fill your jar for maximum potency! Order with our 4 oz Square Mason jar that are debossed with gradation/volume markings  helping them to stand out on the shelf , or order in the bag to refill your jars.
---